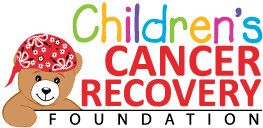 Who We Are
Our Mission


Children's Cancer Recovery Foundation improves the mental, social and emotional well-being of children with cancer and their families.
A national footprint allows the Foundation to make a difference in communities, large and small, providing a helping hand wherever needed. Children's Cancer Recovery Foundation (CCRF) is an IRS recognized 501(c) (3) charitable organization, serving children under age 18. EIN Number 33-0418563.
The Foundation delivers gifts to thousands of children each year through the national Bear-Able Gift Program. Items such as board games, toys, crayons, coloring books, markers, video games, iTunes gift cards, puzzles, teddy bears, craft kits… all sorts of things that make children smile and laugh… are distributed to hospitals across the country. The Bear-Able Gift Program is the largest supplier of gifts to children with cancer in North America.
Families of children with cancer often face financial difficulties. Suddenly, household bills become overwhelming; utilities are in jeopardy of being shut-off or an eviction notice is received. The Helping Hands Fund provides emergency bridge payments directly to the utility companies and landlords, ensuring that each child has a warm, safe place to call home while recovering from cancer.
The Camp Scholarship Program allows children in remission to reconnect with friends and activities in which they love. The program provides funding for a camp of their choice; sports, music, art, science, horseback riding, skiing or whatever activities they missed most during treatment.
Children's Cancer Recovery Foundation operates an extensive Medical Missions Program which provides treatment medications and medical supplies to clinics and doctors treating cancer patients in developing and impoverished countries. We also provide medicine and supplies to aid medical professionals in the treatment and prevention of the side effects of cancer including lymphedema and treatment-related infections.

Program Totals
In 2016, Children's Cancer Recovery Foundation served 17,174 children with cancer across the country through three core programs:
Bear-Able Gifts: 16,543
Camp Scholarships: 136
Helping Hands Fund: 495

Our Founder
Cancer Recovery Foundation International (CRFI) is a group of global affiliated charities, founded by "The Wellness Authority" Greg Anderson in 1984. Cancer Recovery Foundation's mission is to help all people prevent and survive cancer through "integrated cancer care" which Anderson pioneered. The Foundation is currently established in the United States, Canada, the United Kingdom and Germany. The organization is a recipient of the "5-Star Best in America Award."
Greg Anderson was diagnosed with stage IV lung cancer in 1984. His surgeon gave him just 30 days to live. Refusing to accept the hopelessness of this prognosis, he went searching for people who had lived even though their doctors had told them they were "terminal." His findings from interviews with over 16,000 cancer survivors form the strategies and action points for what has become an international cancer recovery movement.
Anderson is the author of eleven books including international Best Sellers The Cancer Conqueror; Cancer: 50 Essential Things to Do; and The 22 (Non-Negotiable) Laws of Wellness. His writings have been translated into 31 languages.

Staff Board

Madeline Chronister - Program Manager
Felicia Ellis - Digital Marketing Designer
Trina Fisher - Bookkeeper/Administrative Assistant
Suzanne Hollenbach - Community Relations Specialist
Amy O'Leary (November 2017-Present)*

*Indicates Independent Board Members

Core Values
Eight core values express the way in which all Children's Cancer Recovery Foundation stakeholders work together to become the premier global voice in children's cancer prevention and survival.
Stewardship
We believe we are entrusted with a special responsibility to serve all children who are touched by cancer. We pray like it all depends on a power outside ourselves and work like it all depends on us.
Respect
We affirm people. We are open to different cultures, ideas, and points of view. We listen. When we challenge ideas or behavior, we respect the person.
Collaboration
We practice teamwork. We work across boundaries...from international to departmental. We recognize that decisions impact all stakeholders. We seek advice from a wide spectrum of team members. Process is important.
Integrity
We speak truth with love. We practice clear, direct and appropriately detailed communication. We demonstrate honesty. We earn trust.
Accountability
We honor commitments. We accept responsibility for our promises and our actions.
Passion
We give 100% every day. We are immersed in the vision and mission of being the best in the world at delivering hope to children touched by cancer. We find joy in this quest.
Growth
We learn, adapt and grow as individuals and as an organization
Balance
We take time for personal wellness. We practice what we teach. We walk the talk.