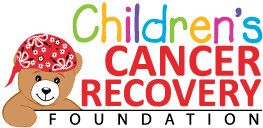 Raise Funds for CCRF!
Start an Individual Fundraising Campaign!
Start a personal fundraising campaign that fits your interests, time, and talents. The money you raise will help CCRF support thousands of children battling cancer.
We value your support!  We encourage the public to get involved in raising funds and awareness for the Children's Cancer Recovery Foundation whenever possible.  There are a variety of simple and easy fundraising ideas that you can do to help fundraise for children with cancer. See a variety of options below!

Raise Funds Online
Raise funds for CCRF! Click here and you'll be able to fundraise for us directly! Need an idea?  This list should help!


Ask for donations instead of presents for your birthday

Workout for a cause at your local fitness center

Create a charity wedding registry for your big day

Shave or dye your hair on our behalf

Participate in a road trip fundraiser with your friends and family

Request sponsorship for your volunteer efforts

Honor the passing of a loved one with a memorial fundraiser


Host an Event
Start your own fundraiser for CCRF! How do these sound?

Host a bingo night with your community members, coworkers, and friends

Plan an event such as a walk, run, dance marathon or art auction

Display collection canisters for donations at your work place or local business

Hold a car wash, yard sale, bake sale or dinner on our behalf
These are just a few campaign suggestions, but don't let us hold you back! When you show your creativity and dedication to fundraising, any campaign you start is sure to be a winner!
To use our name in any offline fundraising efforts, a written agreement must be signed by our representative.  Please contact events@cancerrecovery.org to learn more.
Partner with us and together we can create smiles, inspire hope and help these children rediscover their childhood!