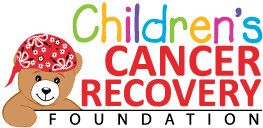 CCRF Appoints New Executive Director
New Oxford, PA –December 22, 2017 – The Children's Cancer Recovery Foundation (CCRF), a
non-profit organization dedicated to supporting children under 18 and their families facing the
hardships of cancer, announces the appointment of Amy O'Leary as its Executive Director.
She will oversee development, management, and oversight of CCRF, including program services, fundraising, and outreach/public education.
O'Leary currently resides in Abbottstown, Adams County, and is a graduate of New Oxford High School. Her professional background includes experience working with local non-profit organizations, including financial management, human resources, and community outreach. She has been working with various local non-profits as a volunteer for over 15 years.
"I was first introduced to CCRF when I organized and led a volunteer group with my previous place of employment. It was then that I immediately identified with the mission of the organization. Shortly after, I was asked and graciously accepted the offer to join the Foundation's Board of Directors. Now being appointed as Executive Director, I am grateful to have the opportunity to expand the Foundation while helping children and their families who are impacted by pediatric cancer. Our New Oxford team is eager to begin growing our organization in such a remarkable community. With my newly appointed role and the New Year ahead, we plan to implement more community-based events. Please watch our Facebook page and our website for announcements. I am looking forward to working with the local community, and am hopeful to establish some partnerships," said O'Leary.
"We've seen first-hand Amy's work as a member of our board," said CCRF Board President Martin Dumic. "Amy's new role as CCRF's Executive Director is a natural progression and recognition of her abilities."
How can the community get involved? The Foundation is actively seeking members of the community to join our Board of Directors. If you have an interest, please contact Amy O'Leary or Suzanne Hollenbach. Toy Drives are another area that we rely heavily on the community for assistance throughout the year. Interested individuals and organizations can contact Madeline Clark to schedule a drive. To contact the Foundation, please call 717-688-7940.
About Children's Cancer Recovery Foundation (CCRF):
Headquartered in New Oxford, PA., the Children's Cancer Recovery Foundation improves the mental, social and emotional well-being of children with cancer and their families. The foundation delivers gifts to thousands of children each year through the Bear-Able Gifts program and emergency funds for families of children with cancer through its Helping Hands Fund. With a national pediatric-hospital partner network of more than 215 locations, the foundation directly helps more than 15,000 children affected by cancer and their families each year. For more information, visit www.ChildrensCancerRecovery.org.