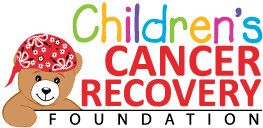 'Twas The Week Before Xmas' Concert
A BIG THANK YOU to Mix 96.5, The Atom Smasher Morning Show, Live Nation and everyone who donated, supported and participated in this fundraiser! We raised over $10,000!



Sponsor a Toy Drive!
Looking for a rewarding, easy
activity that will put smiles on
kids faces when they need it most?


I Define Me Video Campaign
Help us spread the word about I Define Me and positive self image by liking us on Facebook or following us on Twitter.
Enter your email address to receive our monthly newsletter.


We are a CFC approved charity!

Use 12394 as our number and allow your payroll deductions to come to us.



Our Blog
CCRF offers toxic free shopping tips to avoid purchasing unsafe gifts With the holiday shopping season in full-swing, parents will be scurrying from store to store in search of the perfect toys and gifts for their children. Unfortunately, many are unaware of the potentially carcinogenic materials that could be lurking among Santa's wish-list. As part […]
CCRF offers a handy Thanksgiving meal grocery store list that shoppers can use to make healthier choices. Click here!
The time of diagnoses was very difficult for us. Watching my son in the ICU for 10 days made me realize that this isn't going away anytime soon. He needs me and the rest of our family more now, than ever. We have put Mason and his treatments before everything.
Every child gets energized this time of year as they pick out their Halloween costume and look forward to the much-anticipated day of trick-or-treating. As part of its Toxic Free Kids initiative, the Children's Cancer Recovery Foundation (CCRF) recommends that parents and guardians be cautious about their choices and purchases. Many Halloween costumes require the […]

Twitter Feed
Recent Photos

Facebook Feed