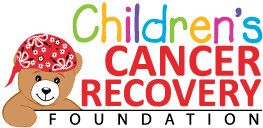 Camp Scholarships
Cancer often isolates children from their friends and the activities they love. The Camp Scholarship Program allows children in remission to reconnect with those friends and activities.


Sponsor a Toy Drive!
Looking for a rewarding, easy
activity that will put smiles on
kids faces when they need it most?


I Define Me Video Campaign
Help us spread the word about I Define Me and positive self image by liking us on Facebook or following us on Twitter.




Enter your email address to receive our monthly newsletter.


We are a CFC approved charity!

Use 12394 as our number and allow your payroll deductions to come to us.



Our Blog
Buy a Toy, Give a Toy This Black Friday take advantage of the deals and buy a toy to donate to CCRF. The toy you donate will be sent to a child battling cancer in the hospital to make them feel at home for the holidays. Choose CCRF on Cyber Monday When shopping on Amazon […]
Child Name: Arielle Age: 3 Diagnosis: ALL State: MA Program: Helping Hands Fund Date Helped: February 2014 1. Cancer. When did this word enter your life? Arielle was diagnosed in September 2013—one week before her 3rd birthday. 2. How has cancer affected your family in a positive and/or negative way? Having a child with cancer is […]
Child Name: Daniel Age: 12 Diagnosis: Leukemia State: NC Program: Helping Hands Date Helped: October 2015  1. Cancer. When did this word enter your life? February 4th, 2015 2. How has cancer affected your family in a positive and/or negative way? Daniel Jr. being diagnosed with cancer has opened our eyes. We realize that every day is a […]
Child Name: Angelo Age: 5 Diagnosis: Burkitt Lymphoma State: CA Program: Camp Scholarship Program Date Helped: November 2014 1. Cancer. When did this word enter your life? February 2014 to August 2014 2. How has cancer affected your family in a positive and/or negative way? With this situation, we became aware of our vulnerability. We […]

Twitter Feed
Recent Photos

Facebook Feed