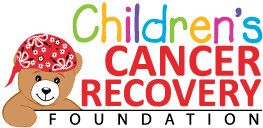 'Twas The Week Before Xmas' Concert
A BIG THANK YOU to Mix 96.5, The Atom Smasher Morning Show, Live Nation and everyone who donated, supported and participated in this fundraiser! We raised over $10,000!



Sponsor a Toy Drive!
Looking for a rewarding, easy
activity that will put smiles on
kids faces when they need it most?


I Define Me Video Campaign
Help us spread the word about I Define Me and positive self image by liking us on Facebook or following us on Twitter.
Enter your email address to receive our monthly newsletter.


We are a CFC approved charity!

Use 12394 as our number and allow your payroll deductions to come to us.



Our Blog
He does not allow having cancer define him! It is completely beaten out by him being a Boy Scout, a baseball player, a saxophonist, and a guitar player.
2014 was a banner year for Children's Cancer Recovery Foundation! The Foundation, which assists children under age 18 and their families facing the hardships of a cancer diagnosis, broke a Guinness World Record, funded groundbreaking research, launched its I Define Me Campaign, and continued to be the largest supplier of gifts to children with cancer […]
Written by Gregory Anderson. Mr. Anderson is the founder and CEO of the Cancer Recovery Foundation International Group, a global affiliation of national organizations whose mission is to help all people prevent and survive cancer. Mr. Anderson, a cancer survivor, is widely recognized as one of the world's leading wellness authorities. He is the author of fourteen […]
Our biggest fear was that our less than 2 ½ year old would never experience a "normal" childhood, or worse, that he may never have one. We learned to pray and converse with God like no other time in our life. We have more hope, joy, peace, and love in our life than we have ever experienced.

Twitter Feed
CCRF is the largest distributor of gifts to kids w/ #cancer in the US through the Bear-Able Gift Program. mrkt.ms/Uci4

Kids w/ #cancer are robbed of their childhood, even if it's for a short time. Help put a smile on their faces: mrkt.ms/Uci4

Did you know that 1/285 children in the US will have cancer before they turn 20 years old? @AmericanCancer #cancer #statistic
Recent Photos

Facebook Feed