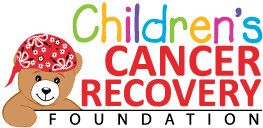 Registration NOW OPEN!
Mom. Dad. Sons. Daughters. Grandma. Grandpa. Aunts. Uncles. Cousins. Even Fido! Form a team. Take a walk. Help kids with cancer!


Sponsor a Toy Drive!
Looking for a rewarding, easy
activity that will put smiles on
kids faces when they need it most?


I Define Me Video Campaign
Help us spread the word about I Define Me and positive self image by liking us on Facebook or following us on Twitter.




Enter your email address to receive our monthly newsletter.


We are a CFC approved charity!

Use 12394 as our number and allow your payroll deductions to come to us.



Our Blog
How are you spending your tax refund? This year make a difference! Learn how you can use your 2014 tax refund to help children with cancer and plan on making deductions next year on your 2015 tax return. Helping Others Sharing even a portion of your refund with a charitable organization, such as the Children's Cancer Recovery […]
Thank you to everyone who attended the Kid's Mini-Golf & Family Festival this past Friday, March 27, 2015 from 5 to 9pm! The Festival was held at the Choice Tee Golf located in Spring, Texas and had an amazing turnout where kids of all ages participated in the fun activities available such as unlimited miniature golf, rock […]
Child Name: Serena Age: 10 Diagnosis: Neuroblastoma Stage 4 High Risk State: PA Program: Camp Scholarship Date Helped: January 2015 1. Cancer. When did this word enter your life? Cancer entered our lives on June 21, 2008 when Serena was three and a half years old. 2. How has cancer affected your family in a […]
The Kids Mini-Golf & Family Festival is just around the corner! Haven't purchased tickets? Not sure if you should go? Here are 10 reasons why you don't want to miss this year's festival on Friday, March 27th. Be sure to read reason #10! Your ticket purchase benefits children with cancer and their families. The Kids […]

Twitter Feed
Our Bear-Able Gift Program brings smiles to children's faces throughout the year. Here are some ways you can help! bit.ly/bearablegift

Interested in volunteering? Here's our list of Virtual Volunteer Opportunities. bit.ly/ccrfvol You can do these from anywhere!

Join us & together we can Create Smiles, Inspire Hope & help children rediscover their childhood! #Volunteer bit.ly/ccrfvol
Recent Photos

Facebook Feed