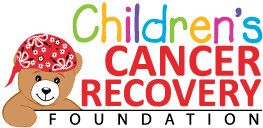 Links

Wings of Hope Living Forward, Inc.
In the beginning we realized that many grieving parents not only lose a child but they lose their friends and in some cases support from their immediate family.
We offer a place to get support when you are working to help others in grief whether it is a new law you are lobbying to get changed, a book you want to share, a foundation you have created to help others, a craft you make in memory of your child, or you are in need of something to do with your time that will help you feel you have a purpose to live forward.
Visit Wings of Hope Living Forward. Together we can heal.

United States Initiatives
Providing integrative prevention and survival strategies.
Visit the Initiatives below to find the support you need.

Children's Cancer Recovery Foundation
Delivering simple acts of care and kindness to children and their families experiencing cancer. Creating Smiles. Inspiring Hope.

Cancer Recovery Foundation of America
Integrative Research, Education, Advocacy and Support for adults living with cancer.

The Breast Cancer Charities of America
Bringing organizations together. Uniting for the cure.

Greg Anderson
Best-selling author and 25-year cancer survivor.

International Initiatives