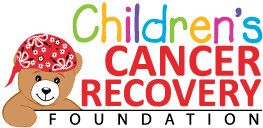 Sponsor A Toy Drive
Our Bear-Able Gifts Program relies entirely on donated new, unwrapped toys. If your office, place of worship, school, or civic organization is looking for a way to give back, think of Children's Cancer Recovery Foundation.
We deliver gifts to thousands of children each year through the national Bear-Able Gifts Program. Items such as board games, toys, crayons, coloring books, markers, puzzles, books, teddy bears, craft kits are distributed to hospitals across the country. The program is the largest supplier of gifts to children with cancer in North America.

Fill out the form below to set up your toy drive today!  We will provide you with signs and information to help make your toy drive a success! New toys can be dropped off or shipped to our New Oxford, PA location all year long.   Remember, your donations are tax deductible!
249 Lincoln Way East
New Oxford, PA 17350
Virtual Toy Drive


Don't want to organize a live toy drive?  That's OK!  Host your very own Virtual Toy Drive! Get started today!