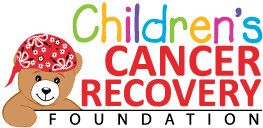 Walking for Gold
Walk 300,000 steps this September to raise funds for Children's Cancer Recovery Foundation.
Raise your step count while also raising awareness for childhood cancer each day. Start a new workout routine, walk to work, or skip the elevator to raise funds that will help children battling cancer across the United States. Don't worry, we will be with you every step of the way! Sign up now!

There are 30 days in the month of September. That means you'll have to walk 10,000 (or more) steps each day to reach 300,000 steps by the end of the month. Start walking to work or during your lunch break, take the stairs, give the dog an extra walk on the weekends, or start family walks after dinner.
All you need is a pedometer or fitness tracker that will count the steps for you. There are also apps you can download on your phone that will track your steps and miles. Use this
calendar
to keep yourself on track!
To get started with your fundraising, sign up
here
.
Share your fundraising page with friends and family via email and social media.
Encourage friends, family, or coworkers to sign up. Everyone loves a little friendly competition!
Offer your services! Help your neighbors with yard work or offer to walk their dog.
Download our
Fundraising Ideas
page for more ideas!