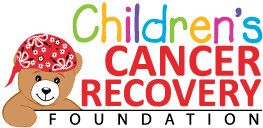 John Crain Kunkel Foundation Grants $3,000 to CCRF
CCRF Champion Spotlight: The John Crain Kunkel Foundation

Children's Cancer Recovery Foundation is proud to announce that we have again partnered with the John Crain Kunkel Foundation to improve the lives of children in Central Pennsylvania.
The John Crain Kunkel Foundation granted CCRF $3,000 to support the Bear-Able Gifts program, the Helping Hands Fund, and the Camp Scholarship program. With the Foundation's generous support, CCRF will be able to provide approximately 250 gifts to pediatric cancer units, financial assistance for five area families, and camp scholarships for children with cancer to attend summer camps.
About the John Crain Kunkel Foundation
John Crain Kunkel was a public servant from the Susquehanna Valley. Born in Harrisburg, Pennsylvania, Mr. Kunkel served nine terms in Washington, DC, as a Member of the House of Representatives. He also served as Dauphin County Commissioner. The John Crain Kunkel Foundation grew out of Mr. Kunkel's belief in the value of all lives. The Foundation, formed in 1969, supports organizations in Central Pennsylvania and beyond which work to further this ideal.
About Children's Cancer Recovery Foundation
Headquartered in Harrisburg, PA with a division in The Woodlands, TX, the Children's Cancer Recovery Foundation supports children under 18 and their families facing the hardships of cancer. The foundation performs acts of care and kindness through the following programs: Bear-Able Gifts (largest distributor of gifts to children with cancer in the U.S.); Helping Hands Fund (provides emergency financial assistance to families); and Camp Scholarships (allows children in remission to reconnect with activities they love). With a national pediatric-hospital partner network of 215+ locations, the foundation directly helps more than 15,000 children affected by cancer and their families every year. Please visit www.ChildrensCancerRecovery.org.