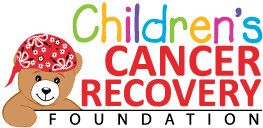 CCRF Grants $10,000 Scholarship to Camp Can Do

MT. GRETNA, PA – August 24, 2015 – Schools out for the summer! It's time for sun, fun, playing with friends, family vacations and sitting by the pool doing nothing – what every kid dreams of at the end of the school year for his/her summer vacation. Unfortunately there are kids who won't have the same excitement and dreams for their summertime fun. Children with cancer anticipate long days in the hospital for treatments and ongoing doctor visits and a lot of time spent in bed.
Pediatric cancer patients ages 8 to 17 were given the chance to take part in summer activities with financial assistance from the Children's Cancer Recovery Foundation (CCRF) located in Harrisburg, Pa. CCRF donated $10,000 to Camp Can Do, a summer program located at Gretna Glen Camp and Retreat Center in Mt. Gretna, Pa. Camp Can Do serves cancer patients and their siblings with a chance to get-away from their normal routine and be a kid again.
What does it mean to these kids to be a "kid again?" It means they are free from their diagnosis. They are free from looks they receive from other kids. It helps them know they aren't alone; that someone else their age understands and feels the same way. It's a new form of family and acceptance that is developed during that week and will last a lifetime. CCRF's donation awarded children the chance to attend and participate in a thrilling week of activities from August 2-8. This year's theme for the first week of August was Broadway and the camp was all decked out to look like the Big Apple with lights and signs of Broadway.
CCRF was responsible for helping to fund a majority of the camp's attendees, and visited Camp Can Do to hand out Bear-Able Gifts to the campers on Friday, August 7th. CCRF's partnership for the second year in a row has been instrumental for the camp's continual success. We look forward to next year's Camp Can Do!
About Camp Can Do
In service since 1983, Camp Can Do has provided young cancer patients and their siblings with a safe environment to establish new friendships and experience a compassionate atmosphere. The camp staff is made up of a tremendous group of volunteers who include: doctors, nurses, cancer survivors, and former campers who are now counselors. The kids and staff enjoyed a beautiful week full of activities, including arts and crafts, swimming, fishing, kayaking, SUP boarding, archery, adventure challenges, an outdoor dance, campfires and a trip to Hersheypark!
"Cancer treatment is extensive and tiresome for pediatric patients; it takes a toll on the children and their families," said Tom Prader, president of Camp Can Do. "Camp Can Do is endorsed by the physicians of our campers as treatment. These medical professionals believe the experience that the children have at our camp is an important element in their overall quality of life."
About Children's Cancer Recovery Foundation (CCRF)
Headquartered in Harrisburg, PA with a division in The Woodlands, TX, the Children's Cancer Recovery Foundation supports children under 18 and their families facing the hardships of cancer. The foundation performs acts of care and kindness through the following programs: Bear-Able Gifts (largest distributor of gifts to children with cancer in the U.S.); Helping Hands Fund (provides emergency financial assistance to families); and Camp Scholarships (allows children in remission to reconnect with activities they love). With a national pediatric-hospital partner network of 215+ locations, the foundation directly helps more than 15,000 children affected by cancer and their families every year. Please visit www.ChildrensCancerRecovery.org.