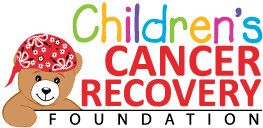 CCRF Funds Special Love Ski Weekend for Families Dealing with Cancer
- CCRF Donates $1,925 to Help Seven Families Attend One-of-a-Kind Retreat-

Harrisburg, PA - February 9, 2015 - Children's Cancer Recovery Foundation recently donated $1,925 to send seven families to Special Love's Family Ski Weekend, a program which gives families - who have a child with cancer- the opportunity to enjoy a fun-filled weekend getaway. When a child is diagnosed with cancer it affects the entire family; time-consuming treatments and medical expenses place an unimaginable burden on parents and a strain on everyday family life. Special Love, a non-profit organization for children with cancer, held its annual Family Ski Weekend on January 16 – 19.
This year's Family Ski Weekend brought families together for an action-packed adventure. Children and parents were taught how to ski or snowboard, partook in various activities and were given the opportunity to connect with others in similar situations. Children whose cancer resulted in muscular weakness or an amputation were taught adaptive skiing or snowboarding. Overall, families were able to create happy memories and find strength within each other's stories.
"Cancer has caused an unbelievable amount of stress, heartache, and suffering in our family. The assistance [CCRF] gave us two years in a row to allow all seven of us to go on a ski weekend trip to Canaan Valley was invaluable! It is hard to spend quality time together as a family in today's day and age. Add a child with cancer to that scenario, and it is even more difficult," said Becky Whitt. "Us going to Canaan Valley as a family with Special Love is a getaway that the entire family looks forward to every year. My husband and I marvel at how well everyone gets along and how therapeutic it is for all of us. A big part of this weekend is not only the fun skiing and outdoor activities, but also the bonding that we do with other families affected by pediatric cancer."
Special Love serves children, ages 7-17, who have received cancer-specific treatment within the past three years. Special Love lets kids be kids, through camps, financial assistance, and a community of support that lets them (and their families) know that they're not alone in their battle. Special Love's programs are held throughout the year at fully-modernized facilities in the Greater Washington, DC area. For more information, visit www.specialove.org.
About Children's Cancer Recovery Foundation (CCRF)
Headquartered in Harrisburg, PA with a division in The Woodlands, TX, the Children's Cancer Recovery Foundation supports children under 18 and their families facing the hardships of cancer. The foundation performs acts of care and kindness through the following programs: Bear-Able Gifts (largest distributor of gifts to children with cancer in the U.S.); Helping Hands Fund (provides emergency financial assistance to families); and Camp Scholarships (allows children in remission to reconnect with activities they love). With a national pediatric-hospital partner network of 215+ locations, the foundation directly helps more than 15,000 children affected by cancer and their families every year. Please visit www.ChildrensCancerRecovery.org.

Photos from Special Love Ski Weekend 2015