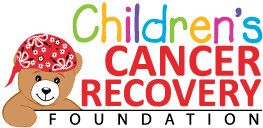 CCRF in the Community

Buffalo Wild Wings Fundraiser
November 1, 2017 - January 31, 2017
Download and present this card at one of the
Buffalo Wild Wings listed below and 10% of your bill
will go to Children's Cancer Recovery Foundation.
Participating Locations:
Buffalo Wild Wings
4600 Jonestown Rd.
Harrisburg, PA 17109
Buffalo Wild Wings
6385 Carlisle Pike
Mechanicsburg, PA 17050
Buffalo Wild Wings
81 Wilson Ave.
Hanover, PA 17331
(Link to "Teammate Card": http://bit.ly/2AoRQc7)
Buffalo Wild Wings
540 Walker Rd
Chambersburg, PA 17201


NEC SAAC Money Wars
January 20, 2017 - February 26, 2017
Starting on January 20th, the 10 schools that
make up the Northeast Conference will be competing
in their annual Money Wars. The NEC has raised
more than $66,000 for CCRF's Bear-Able Gifts
program since 2010. If you would like to support
NEC's Money Wars, click here.