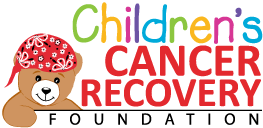 Volunteer
We encourage the public to get involved with the Foundation whenever possible! There are a variety of simple and fun volunteer opportunities available. If you are an individual, group, civic organization or business, contact us on ways you can help. Please contact our Director of Marketing & Program Services, , to learn more. Join us and together we can create smiles, inspire hope and help these children rediscover their childhood!

Volunteer Opportunities
Peer-to-Peer Online Fundraising
Start a personal fundraising campaign that fits your interests, time, and talents. The money you raise will help CCRF support thousands of children battling cancer. Some ideas include asking for donations instead of presents for your birthday, working out for a cause at your local fitness center, creating a charity wedding registry for your big day, or honoring the passing of a loved one with a memorial fundraiser.
DIY Fundraising Event
Start your own fundraiser for CCRF! When you show your creativity and dedication to fundraising, any campaign you start is sure to be a winner! Some ideas include hosting a bingo night with your community members, coworkers, and friends; planning an event such as a walk, run, dance marathon or art auction; display collection canisters for donations at your workplace or local business; or holding a car wash, yard sale, bake sale or dinner on our behalf.
Host a Toy Drive
Collect toys for children battling cancer! We deliver gifts to thousands of children each year through the national Bear-Able Gift Program. If your office, place of worship, school, or civic organization is looking for a rewarding, easy activity that will put smiles on kids faces when they need it most, contact CCRF to learn how to host your own toy drive.
Blog for Children's Cancer Recovery Foundation
Children's Cancer Recovery Foundation is seeking guest bloggers and industry experts to share a blog post each month. The blog post should be personal, educational and/or motivational. If you are already a blogger, this volunteer opportunity could be great exposure as we will link to you and your website!

If you're located within driving distance of New Oxford, PA, we can use your help fulfilling general office needs. You can organize a group to pack toys, help stock our shelves with donations, count inventory, unpack shipments, and stuff mailers. Email our Director of Marketing & Program Services, , to volunteer!