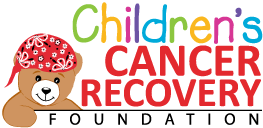 Our Mission
Our Mission

Children's Cancer Recovery Foundation improves the mental, social and emotional well-being of children with cancer and their families.
A national footprint allows the Foundation to make a difference in communities, large and small, providing a helping hand wherever needed. Children's Cancer Recovery Foundation (CCRF) is an IRS recognized 501(c) (3) charitable organization, serving children under age 18. EIN Number 33-0418563.
The Foundation delivers gifts to thousands of children each year through the national Bear-Able Gift Program. Items such as board games, toys, crayons, coloring books, markers, video games, iTunes gift cards, puzzles, teddy bears, craft kits… all sorts of things that make children smile and laugh… are distributed to hospitals across the country. The Bear-Able Gift Program is the largest supplier of gifts to children with cancer in North America.
Families of children with cancer often face financial difficulties. Suddenly, household bills become overwhelming; utilities are in jeopardy of being shut-off or an eviction notice is received. The Helping Hands Fund provides emergency bridge payments directly to the utility companies and landlords, ensuring that each child has a warm, safe place to call home while recovering from cancer.
The Camp Scholarship Program allows children in remission to reconnect with friends and activities in which they love. The program provides funding for a camp of their choice; sports, music, art, science, horseback riding, skiing or whatever activities they missed most during treatment.

Core Values
Eight core values express the way in which all Children's Cancer Recovery Foundation stakeholders work together to become the premier global voice in children's cancer prevention and survival.
Stewardship
We believe we are entrusted with a special responsibility to serve all children who are touched by cancer. We pray like it all depends on a power outside ourselves and work like it all depends on us.
Respect
We affirm people. We are open to different cultures, ideas, and points of view. We listen. When we challenge ideas or behavior, we respect the person.
Collaboration
We practice teamwork. We work across boundaries...from international to departmental. We recognize that decisions impact all stakeholders. We seek advice from a wide spectrum of team members. Process is important.
Integrity
We speak truth with love. We practice clear, direct and appropriately detailed communication. We demonstrate honesty. We earn trust.
Accountability
We honor commitments. We accept responsibility for our promises and our actions.
Passion
We give 100% every day. We are immersed in the vision and mission of being the best in the world at delivering hope to children touched by cancer. We find joy in this quest.
Growth
We learn, adapt and grow as individuals and as an organization
Balance
We take time for personal wellness. We practice what we teach. We walk the talk.