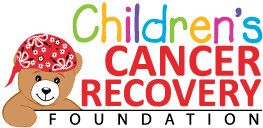 New Era Research Fund
Children's Cancer Recovery Foundation is not currently accepting new applications for the New Era Research Fund. We hope to begin accepting new submissions soon. We apologize for any inconvenience this may cause. We sincerely wish you the very best in your pursuits to bring about change in childhood cancer research.

While cancer survival rates have steadily increased, the treatments often leave the cancer survivor with a diminished quality of life. The New Era Cancer Research Fund specifically concentrates on researching less-toxic, minimally invasive treatments to improve life after cancer. The program also funds research to better understand the link between nutrition and cancer


CCRF Funds Grant to M.D. Anderson Cancer Center
Greg B. Anderson, Founder & CEO of Cancer Recovery Foundation International presents a check to Eugenie Kleinerman, M.D., Professor and Head of the Division of Pediatrics at M.D. Anderson Cancer Center.
The $100,000.00 grant will underwrite a unique new program to assist the parents of children who have recently been diagnosed with cancer.

CCRF approved a grant to MassGeneral Hospital for Children (MGHfC) Cancer Center and The Royal Marsden Hospital in London for a collaborative study to fund research on the effects of Proton vs. Photon radiation treatments. This study dovetails nicely with CCRF's commitment to supporting less-toxic therapies that improve quality of life in pediatric cancer survivors. The study is being led by Dr. Torunn Yock, MD, chief of Pediatric Radiation Oncology at MGHfC and Dr. Henry Mandeville, MD, a Consultant Clinical Oncologist at The Royal Marsden Hospital in London specializing in the treatment of malignancies in children and young people. This study will be the first comparison ever published to date for the pediatric cancer population.


While long term cancer survival rates for children have now reached 80%, the treatments often leave the survivor with a diminished quality of life. CCRF is dedicated to funding research that specifically concentrates on less-toxic, minimally invasive treatments to improve life after cancer.
Proton radiation is a relatively new form of treatment that much more accurately places the radiation dose in the targeted area with minimal entrance dose and no exit dose. This allows the radiation to stay within the tumor compared to other forms of radiation. As a result, the targeted dose effects 2-3 times less tissue compared to photon therapy protocols. Proton therapy treatment can last 6-10 weeks depending on the size of the tumor and location.
Radiation therapy in many pediatric cancer tumors is essential to achieving a cure but often comes with serious long-term side effects from the unintended dose to normal tissue. These include inhibiting growth and development of healthy tissue, neurocognitive function, neuroendocrine function, hearing and cosmetic effects along with increased risk of second malignancy. Currently, 70% of children with solid tumors that are cured with traditional treatment have a higher risk of developing severe health issues later in life including a recurrence of cancer or other life threatening disease.
Pediatric cancer research is an area that remains woefully underfunded. The National Cancer Institute provides funding for researchers, but only 10 percent of them can move forward with their findings due to budget cuts. Most of the financial support researchers receive is from philanthropists. Researchers say they are working hard to discover new theories and treatments, but they feel they are being held back as 96% of grants don't get funded. The following is a link to a January 2013 article on this topic: http://www.theatlantic.com/health/archive/2013/01/our-disproportionate-focus-on-adult-over-pediatric-cancer-research/266684/