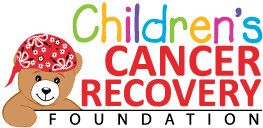 Get Started – Healthcare
Welcome to Children's Cancer Recovery Foundation.  We appreciate your partnership in helping children and their families living with cancer.  We encourage you to explore our site and learn more about us.

Social Workers & Child Life Specialists
In order to receive program updates and information for the families you serve please fill out this Online Registration Form.   Please note that you must use your hospital contact information.  We will send you, via email, the Helping Hands Fund application monthly and online request forms for the Bear-Able Gifts program quarterly. The Camp Scholarship application will be sent periodically throughout the year as well.  Feel free to inform your colleagues so they can receive updates also!

Please take a moment to check out these sections:


Under "About" you will find out Who We Are and our Core Values.

Under "Partners" you will find a sampling of Expressions of Gratitude from the thousands of recipients of our programs.

Under "Programs" you will learn more about our services, allowing you to advocate with the parents and educate them on our behalf.  This will also allow you to pick which services meets your program needs best.

Under "Get Involved" you can submit your Expressions of Gratitude and help the parents Share Their Story
Thank you again for your partnership.  Together we can Create Smiles, Inspire Hope and help these children rediscover their childhood.

Questions?
Contact us at childrens@cancerrecovery.org or 1.800.238.6479