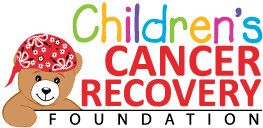 Jocelyn Davis, Executive Director/Secretary

Jocelyn Davis was named Executive Director of Children's Cancer Recovery Foundation in August 2015 and serves as the Secretary of the Board of Directors.
Jocelyn is a graduate of Lebanon Valley College in Annville, Pa., with degrees in English communications and business administration. Before joining the CCRF team full-time as the Program Manager, Jocelyn completed three internship experiences with the Foundation in the areas of event planning, community relations, and program services.
Most recently, Jocelyn was appointed as the Foundation's Executive Director. In addition to her time with CCRF, she has also had professional work experience in nonprofit marketing within the higher education spectrum, and has served in leadership roles with multiple organizations including Sigma Tau Delta, Sigma Alpha Pi, and Phi Alpha Epsilon.
A Note from the Executive Director
Dear CCRF Partners,
I was introduced to Children's Cancer Recovery Foundation (CCRF) as a sophomore at Lebanon Valley College - seeking a volunteer opportunity with a Foundation that would allow me to become part of something extraordinary specifically in the area of childhood cancer. After only a few hours at CCRF's Harrisburg, Pa., Headquarters, I was completely overwhelmed by the amount of hope, support, and genuine goodness that radiated through the walls. Quickly, my future goals solidified: I wanted more than a job; I wanted a career that enhanced the lives of children as they overcame childhood cancer.
What started as a simple day of volunteering transformed into a journey of learning, engaging, and developing as a member of the CCRF team. Three different internship experiences - Event Planning, Community Relations, and Program Services - with the Foundation allowed me to gain an overall understanding of all that goes into creating smiles for young cancer patients.
I had the privilege of working under many mentors at the Foundation who instilled in me the values of a leader: honesty, inspiration, communication, and commitment.
After completing my degrees in communications and business administration, I embarked on my first full-time opportunity with the Foundation as the Program Manager. This was the perfect position to confirm my dedication to CCRF's mission. I sent Bear-Able Gift bags to thousands of children, approved financial assistance funding, and awarded camp scholarships on a daily basis. Everyday my cup overflowed with pure joy from the hope I was able to deliver to our CCRF families.
Most recently, I have accepted the Executive Director position at the Foundation. In many ways I grew both personally and professionally with the Foundation, and it is my sincere hope that I will be able to give back to the organization that gave me so much. I look forward to working with you as we make a difference in the lives of children battling cancer across the nation.
Sincerely,

Jocelyn M. Davis
Executive Director
Children's Cancer Recovery Foundation