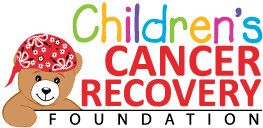 Letter from the Executive Director
If you google Children's Cancer Recovery Foundation, like any other thing in life, you will find the good and the bad. Unfortunately, as we all know, the bad news is what will sell and what the media will focus on. If you look at the Evening Sun, you will see a story that was written about CCRF stating that a large portion of our funds raised go directly to telemarketing expenses. They fail to inform you about all of the lives that our foundation has touched. They have not reached out to the families that we have assisted to ask them what that $300 payment (from CCRF) to their electric company meant. It meant that they had electric for another month, as they were unable to work and afford the payment due to spending day after day in the hospital, watching their child fight cancer, and knowing that there is nothing that they can do for them.
In my first few weeks of working at CCRF, I saw returned mail coming into the agency. These mailings had handwritten notes stating: "I am 87 years old, please take me off of your mailing", "I am going into a nursing home, please remove me from your list", and "Please take this $10 donation, and remove me from your mailing list". This only confirmed that the telemarketing companies are, in fact, targeting the elderly; which hurt my heart, and is not something that I wish to be a part of- personally or for our agency. As I was reading these statements, I immediately thought of my Grandmother- she was the target of scam after scam. Her trusting, loving heart always wanted to help. If I found out through a thank you card from CCRF that my Gram sent money through direct mailing going to a P.O. Box in Washington DC, or through a phone call with a pushy, out-of-state telemarketer on the other end, I would have lectured her, telling her to never donate to a scam like this again. Then if I would have Googled CCRF and read the article that the Evening Sun had posted, I would have really questioned if Gram's money was being used wisely. I, too, would have made an angry phone call to the organization, demanding that she be removed from their lists and that she never be contacted again!
Just this week, as I was drafting this letter, the foundation received a call. It was the daughter of an elderly woman; she left an angry message on our general voicemail about a charge that was on her mother's credit card. I told the staff that I would personally return the call. I called her back to apologize for the charges and explained that I fully agree with her complaints. As the conversation continued, she apologized that she left a stern message. I assured her that I understood her aggravation. It was fifteen minutes later that we hung up, and as we were saying goodbye, the daughter thanked me again for my time and stated how impressed she was that the Executive Director would take the time to personally return her call. Additionally, she added, "I am going to tell Mom that if she would like to help the children with cancer, that she has to send her donation directly to you".
As of 1/1/2018- We are UNDER NEW MANAGEMENT! This is when I started as the Executive Director and also added 3 new members to the Board of Directors. Already this year, we have canceled all of our telemarketing and direct mailing contracts. This year, WE WANT TO BE INVOLVED in the LOCAL COMMUNITY rather than using telemarketing funding. We want to know our donors and we want our donors to know us! CCRF was running mainly on the donations from the telemarketing calls and mailing, with a small portion of funding coming from events and fundraisers pulled together by community members. CCRF is not a state-funded organization. In order for the foundation to continue the mission, we need the support from our community.
Please help CCRF get "Back to the Essentials", by watching for and attending our events. Consider following us on social media, or signing up for a monthly newsletter on our website- and watch for details for events and raffles. We look forward to seeing you at an event, and in our community!