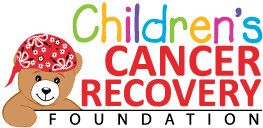 Verity's Story
Child Name: Verity
Diagnosis: Medulloblastoma
State: KY
Program: Helping Hands Fund
Date Helped: October 2016
1. Cancer. When did this word enter your life?
July 25, 2016
2. How has cancer affected your family in a positive and/or negative way?
Positive – We have seen humanity's greatest qualities: love, courage, and compassion.
Negative – Suffering and sickness are hard to see/endure. Family separation, for a time, was really hard.
3. What has been the biggest challenge or struggle during your child's treatment?
The first and greatest struggle as parents was deciding on the best treatment option and center. For our child, nutrition has been the greatest. Vomiting, dehydration, and fatigue are all culprits. A G-tube has really helped.
4. How have you and your family stayed mentally and emotionally healthy?
By receiving support from family and friends, we know that Verity is being prayed for, is loved, and not alone. Even organizations, like Children's Cancer Recovery Foundation, that do not even know us personally, show care and concern. Our faith has gotten us through.
5. What has brought the most joy or fun to your family's life during your child's treatment?
The simple, ordinary things in life. Being able to share our journey together, experiencing the good and the bad, is joy in and of itself. Sometimes that may be finding humor in an experience, appreciating the blessings of today, or holding each other's hands during a hard time.
6. How was your family impacted when chosen to receive help from our Helping Hands Fund?
We were relieved of some of our lodging costs during our stay in Boston.
7. How did you hear about Children's Cancer Recovery Foundation?
Social worker at MGH.