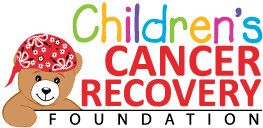 Stores Compete in March Madness Toy Drive

GETTYSBURG, PA – Too many children and their families have to spend an extended amount of time in the hospital fighting the battle against cancer. In our continued efforts to bring hope and joy to the pediatric cancer patients, Children's Cancer Recovery Foundation (CCRF) partnered with The Outlet Shoppes at Gettysburg for a March Madness Toy Drive.
Sixteen stores at the Outlets participated in the toy drive and competed against each other to collect the most toys for CCRF's Bear-Able Gifts program. The "tournament" started on March 16th, with two stores facing off in the championship on April 2nd. Go! Calendars, Games & Toys and Rue21 battled it out until the last hour on Sunday, April 2nd, but Go! Calendars, Games & Toys prevailed as the champions with 412 toys collected. Overall, 1,697 toys were collected to be sent to children battling cancer in the hospital.

The finale event on April 2nd included a petting zoo and photo op with Paw Patrol mascots for the kids and several prize giveaways for adults. Go! Calendars, Games & Toys also held a cat adoption day with the Humane Society of Washington County. The humane society waived the adoption fee for those who donated a toy and 11 cats found their forever home! Families who donated to CCRF also received a coupon for 10% off at any of the restaurants in the food court.
This was the first year that The Outlet Shoppes at Gettysburg hosted a toy drive with CCRF. The toy drive was a huge success and we are looking forward to continuing our relationship with the Outlets. Through the support of businesses like The Outlet Shoppes at Gettysburg, we have been able to deliver more toys and smiles to children battling cancer than ever before!
To learn more about the programs and services offered by CCRF, visit childrenscancerrecovery.org or email childrens@cancerrecovery.org for more information on how to get involved.

About Children's Cancer Recovery Foundation
Headquartered in New Oxford, PA, the Children's Cancer Recovery Foundation supports children under 18 and their families facing the hardships of cancer. The foundation performs acts of care and kindness through the following programs: Bear-Able Gifts (largest distributor of gifts to children with cancer in the U.S.); the Helping Hands Fund (provides emergency financial assistance to families); and Camp Scholarships (allows children in remission to reconnect with activities they love). With a national pediatric hospital partner network of 215+ locations, the foundation directly helps more than 16,000 children affected by cancer and their families every year. Please visit www.ChildrensCancerRecovery.org.