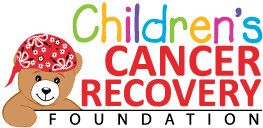 Kline Foundation Partners with CCRF
CCRF Champion Spotlight: Josiah W. & Bessie H. Kline Foundation, Inc.

Children's Cancer Recovery Foundation is proud to announce a new partnership with the Josiah W. and Bessie H. Kline Foundation of Harrisburg! The Kline Foundation, a force for good in the Harrisburg area since 1952, has sponsored CCRF's valuable Camp Scholarship program. The Camp Scholarship program provides children in remission from pediatric cancers the opportunity to reconnect with friends and activities they may have missed during their treatments. On a rolling basis, CCRF accepts applications and provides scholarships for children to attend the recreational camp of any type – outdoor activities, sports, music, art – anything the child has wished they could do while undergoing difficult cancer treatments. With the grant from the Kline Foundation, CCRF will be able to send at least 5 children to camp this summer!
About the Josiah W. and Bessie H. Kline Foundation
The Kline Foundation's "…primary mission is to provide funding to organizations that operate for the betterment of individuals, their families, and their communities; with a focus on charitable, scientific, literary, and educational purposes." Founded in 1952 by Josiah Kline, and his bride Bessie Kline, the Kline Foundation seeks to give back to the community in which they lived, worked, and succeeded. The Kline Foundation has helped fund Harrisburg area YMCAs, the Infusion Center at the Ortenzio Cancer Center, and the United Way of the Capital Region, among many others.
About Children's Cancer Recovery Foundation
Headquartered in Harrisburg, PA, the Children's Cancer Recovery Foundation supports children under 18 and their families facing the hardships of cancer. The foundation performs acts of care and kindness through the following programs: Bear-Able Gifts (largest distributor of gifts to children with cancer in the U.S.); the Helping Hands Fund (provides emergency financial assistance to families); and Camp Scholarships (allows children in remission to reconnect with activities they love). With a national pediatric-hospital partner network of 215+ locations, the foundation directly helps more than 15,000 children affected by cancer and their families every year.