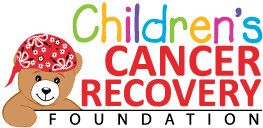 Janssen Biotech Grants $7,500 to CCRF
CCRF Champion Spotlight: Janssen Biotech, Inc.

Children's Cancer Recovery Foundation is proud to continue our partnership with Janssen Biotech, Inc. to improve the lives of children within the Janssen corporate footprint. This includes Berks, Bucks, Chester, Delaware, Lehigh, Montgomery and Philadelphia counties in Pennsylvania, New Castle county in Delaware, and Camden county in New Jersey.
Janssen Biotech's charitable contributions are guided by the company's history and mission. Janssen Biotech has been leading the healthcare/biotechnology field for over 30 years. The company was "built upon a rich legacy of innovative "firsts," [and] pursues innovative solutions in the therapeutic areas of immunology, oncology, and nephrology. With the same unwavering passion for new challenges, [Janssen Biotech] dedicate ourselves to delivering solutions for these disease states where unmet needs continue to exist." This worthy pursuit dovetails with the purpose of CCRF, resulting in a vitally productive partnership.
Janssen Biotech presented CCRF with a grant of $7,500 to deliver gifts to children receiving treatment for cancer in the hospital through the Bear-Able Gift program. The grant will enable CCRF to deliver over 3,000 toys to hospitals such as the Children's Hospital of Philadelphia, A.I. Dupont Children's Hospital in Wilmington, Delaware, and Children's Regional at Cooper Hospital in Camden, New Jersey, among others.