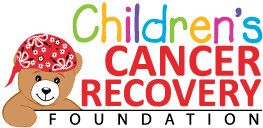 The Hershey Company Grants $10,000 to CCRF
CCRF Champion Spotlight: The Hershey Company

Children's Cancer Recovery Foundation is proud to announce that we have again partnered with the Hershey Company to improve the lives of children with cancer in locations where the company has a presence. The Hershey Company granted CCRF $10,000 to support the Helping Hands Fund, which provides emergency financial assistance to families of children being treated for cancer. With the company's generous support, CCRF will be able to provide over 30 families critical help with monthly bills during their child's treatment. Payments are made directly to utility companies and landlords for those facing financial difficulties of a cancer diagnosis. The Helping Hands Fund ensures that each child has a warm, safe place to call home while recovering from cancer.
About the Hershey Company
The Hershey Company was founded by Milton Hershey in 1894, and has grown to be the leading chocolate manufacturer in North America today. In addition to its famous chocolates and other candies, the Hershey Company produces baking ingredients, chocolate drink mixes, peanut butter, dessert toppings and beverages. With facilities in Central Pennsylvania, Stuart's Draft, Virginia, and Robinson, Illinois, and across the globe, the Hersey Company's impact and dedication to corporate giving is felt worldwide.
About Children's Cancer Recovery Foundation
Headquartered in Harrisburg, PA with a division in The Woodlands, TX, the Children's Cancer Recovery Foundation supports children under 18 and their families facing the hardships of cancer. The foundation performs acts of care and kindness through the following programs: Bear-Able Gifts (largest distributor of gifts to children with cancer in the U.S.); Helping Hands Fund (provides emergency financial assistance to families); and Camp Scholarships (allows children in remission to reconnect with activities they love). With a national pediatric-hospital partner network of 215+ locations, the foundation directly helps more than 15,000 children affected by cancer and their families every year. Please visit www.ChildrensCancerRecovery.org.