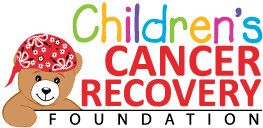 Speedway Children's Charities Grant $3,000 to CCRF
CCRF Champion Spotlight: Speedway Children's Charities New England

For the second year consecutive year, Children's Cancer Recovery Foundation (CCRF) has partnered with Speedway Children's Charities New Hampshire (SCC) chapter to improve the lives of children in the New England area. SCC's mission is "to care for children in educational, financial, social, and medical need in order to help them lead productive lives." Speedway Children's Charities goals dovetail with the purpose of CCRF, resulting in a harmonious and productive partnership.
Speedway Children's Charities has presented CCRF's Helping Hands Fund with a grant of $3,000 to help 10 New England area families of children with cancer. The grant will provide emergency financial assistance to these families while their children are in treatment. Instead of worrying about bills and missed work, parents can focus their energies on helping their children through their cancer diagnosis.
In 2015, Speedway's grant to CCRF helped 12 families during one of the most difficult times in their lives. And with Speedway's further support, the Helping Hands Fund will continue to come to the aid of children and their families in New England.
About Speedway Children's Charities
Speedway Children's Charities was founded by Bruton Smith, Chairman of Speedway Motorsports and Sonic Automotive, as a memoriam and legacy to his son, Bruton Cameron Smith, who passed away at a very young age.
Given his experience, Smith became passionate about wanting to help children in need and Speedway Children's Charities was created focusing on communities surrounding SMI speedways.
"Our sole concern at SCC is to help a child in need," says Smith.
SCC went national in 1982, and throughout the years has grown to funding thousands of organizations nationwide that help children directly with everything from educational support to the basic need of a coat or a simple meal.
About Children's Cancer Recovery Foundation
Headquartered in Harrisburg, PA with a division in The Woodlands, TX, the Children's Cancer Recovery Foundation supports children under 18 and their families facing the hardships of cancer. The foundation performs acts of care and kindness through the following programs: Bear-Able Gifts (largest distributor of gifts to children with cancer in the U.S.); Helping Hands Fund (provides emergency financial assistance to families); and Camp Scholarships (allows children in remission to reconnect with activities they love). With a national pediatric-hospital partner network of 215+ locations, the foundation directly helps more than 15,000 children affected by cancer and their families every year. Please visit www.ChildrensCancerRecovery.org.