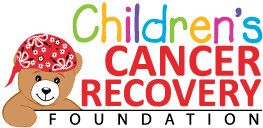 3,747 Children Receive Gifts in Time for the Holidays
HARRISBURG, PA — December 3, 2015 —The continued generosity of individuals and corporations across the United States has allowed the Children's Cancer Recovery Foundation's (CCRF) Bear-Able Gift Program, to put smiles on the faces of children living with cancer. Those smiles help to make the life of a child with cancer more bearable and hopeful, especially during the holiday season.
During the 4th quarter, the Bear-Able Gift Program delivered 11,241 toys and gifts to 38 hospitals across the country to help brighten the lives of 3,747 children living with cancer. Volunteers from NEC SAAC, Metro Bank, and Pennsy Supply assisted the CCRF staff in packing and shipping each Bear-Able Gift!
The Bear-Able Gift Program distributes items such as games, toys, crayons, coloring books, video games, puzzles, books and teddy bears — all kinds of things that make children smile — to hospitals and oncology centers across the country. The program makes CCRF the largest supplier of gifts to children in North America who have cancer. It relies solely on donations of new and unwrapped toys.
There are a number of ways in which individuals and businesses can help support CCRF's Bear-Able Gift Program; they include sponsoring a toy drive, or raising or donating funds. For more information, please visit www.childrenscancerrecovery.org/programs/bearable-gifts/, or contact us at childrens@cancerrecovery.org