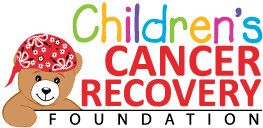 Top 5 of 2015
It's been another excellent year here at Children's Cancer Recovery Foundation! Together, with the help of our amazing supporters, CCRF served 16,995 children during 2015! Below are our top 5 accomplishments of 2015:

#5. New Leadership Joined Board of Directors!
In 2015, CCRF welcomed five new members to the Board of Directors to help guide the Foundation toward a bright future of serving children battling cancer across the country.

#4. 122 Children Attended Camp! 
Cancer often isolates children from their friends and the activities they love. The Camp Scholarship Program allows children in remission to reconnect with those friends and activities. The program provides funding for a camp of their choice; sports, music, art, science, horseback riding, skiing or whatever activities they missed most during treatment.

Learn more about our amazing campers below!

#3. More than 500 Volunteers Supported Programs! 
We were overwhelmed with support from volunteers, partners, and friends all throughout 2015 - for that we are forever grateful!
Learn more about our incredible volunteers below!

#2. 499 Families Received Financial Assistance! 
Families of children with cancer often face financial difficulties. Suddenly, household bills become overwhelming; utilities are in jeopardy of being shut-off or an eviction notice is received. The Helping Hands Fund provides emergency bridge payments directly to utility companies and landlords, ensuring that each child has a warm, safe place to call home while recovering from cancer.
Read more about our CCRF kids and their incredible families below!

#1. 16, 374 Children Received Bear-Able Gifts! 
The Foundation delivers gifts to thousands of children each year through the national Bear-Able Gifts Program. When the toys arrive at their destination, its then up to the social workers and child life specialists to see the toys are distributed.  Some hospitals give each child something when they come in for treatment.  Some children receive a special gift on their birthday.  Others will place toys in their play centers for all the children to enjoy.  The possibilities are endless and the smiles are contagious!
Read some Bear-Able Gift highlights below!
Wishing you a happy & healthy New Year!
Thank you for a wonderful 2015!