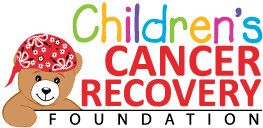 Field Hockey Team Raises Awareness for Childhood Cancer
Greenwood H.S. Field Hockey Team Raises
Awarenessfor Childhood Cancer

Millerstown, Pennsylvania – October 5, 2015 – For the Greenwood H.S. Field Hockey team, raising awareness for childhood cancer didn't stop at the end of September. The team purchased Children's Cancer Recovery Foundation's (CCRF) "Inspiring Hope" shirts in September to wear during warm-ups before games. Although September has come and gone, senior Mackenzie Drew said they'll continue to wear the shirts to help spread awareness. "Childhood cancer doesn't end because September has. Children are fighting every day, month, year to beat this terrible disease and we want to help in any way we can," said Drew.
Staff members from CCRF were able to attend their game on October 5 against Susquenita High School to get a group photo and meet the team. Both varsity and junior varsity players signed a gold field hockey ball and mini field hockey stick that will be sent to a young field hockey fan that CCRF serves. Greenwood won their game against Susquenita and is currently undefeated in league play.
About Children's Cancer Recovery Foundation (CCRF)
Headquartered in Harrisburg, PA with a division in The Woodlands, TX, the Children's Cancer Recovery Foundation supports children under 18 and their families facing the hardships of cancer. The foundation performs acts of care and kindness through the following programs: Bear-Able Gifts (largest distributor of gifts to children with cancer in the U.S.); and Camp Scholarships (allows children in remission to reconnect with activities they love). With a national pediatric-hospital partner network of 215+ locations, the foundation directly helps more than 15,000 children affected by cancer and their families every year. Please visit www.ChildrensCancerRecovery.org.