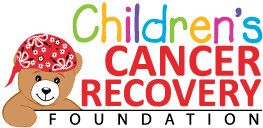 Barrett Family Fundraiser
Barrett Family Raises $10,000 for
Children's Cancer Recovery Foundation

Kingwood, Texas – October 22, 2015 - In August 2010, Chad Barrett and his wife heard the news that no parent wants to hear. Their daughter, Kristina, was diagnosed with clear cell sarcoma. Chad described his daughter as "an amazing girl with a spunky personality who inspired thousands with her strength and endurance, and her infectious faith in God." Unfortunately, Kristina lost her battle to cancer on June 21, 2014.
Families of children with cancer often face financial difficulties. Suddenly, household bills become overwhelming; utilities are in jeopardy of being shut-off or an eviction notice is received. While Kristina was battling cancer, her family needed help financially. The Barrett family received financial assistance through Children's Cancer Recovery Foundation's (CCRF) Helping Hands Fund.
In honor of Kristina, during Childhood Cancer Awareness Month, Chad hosted an online fundraiser to raise funds for CCRF in order to help families struggling with a cancer diagnosis. He asked for just 100 people to donate $20 in order to reach his goal of $2,000 for the month. In only 48 hours, the goal of $2,000 was broken. Chad raised his goal to $5,000, which was broken in less than a week. Chad ultimately reached a goal of $10,000 for the month of September.
In order to show his appreciation for everyone that donated, Chad decided to give away a FREE Caribbean cruise for two. Everyone who donated was placed into the drawing and at the end of September a winner was picked.
The donations raised by the Barrett family will help CCRF continue to offer life-giving programs like the Helping Hands Fund to families of children with cancer. The Helping Hands Fund, a financial assistance program, provides emergency bridge payments directly to the utility companies and landlords, ensuring that each child has a warm, safe place to call home while recovering from cancer.
To learn more about Children's Cancer Recovery Foundation and the Helping Hands Fund, please visit www.childrenscancerrecovery.org.
About Children's Cancer Recovery Foundation (CCRF)
Headquartered in Harrisburg, PA with a division in The Woodlands, TX, the Children's Cancer Recovery Foundation supports children under 18 and their families facing the hardships of cancer. The foundation performs acts of care and kindness through the following programs: Bear-Able Gifts (largest distributor of gifts to children with cancer in the U.S.); and Camp Scholarships (allows children in remission to reconnect with activities they love). With a national pediatric-hospital partner network of 215+ locations, the foundation directly helps more than 15,000 children affected by cancer and their families every year. Please visit www.ChildrensCancerRecovery.org.