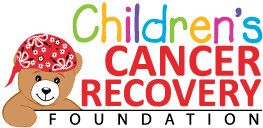 Healthy Homemade Granola Recipe

Learn how to make granola at home! Our homemade granola is a quick, easy, kid-friendly, gluten free AND healthy recipe that the entire family can make together and enjoy for breakfast or as a snack.
HEALTHY GRANOLA RECIPE
by the Childrens Cancer Recovery Foundation
Ingredients
3 cups rolled oats (gluten free)
1 cup raw walnut pieces
1/2 cup raw pumpkin seeds
3/4 cup unsweetened coconut flakes
1 teaspoon ground cinnamon
1 teaspoon pumpkin spice
1/4 cup coconut sugar
1/4 cup maple syrup
1/4 cup coconut oil
1 teaspoon vanilla extract
1/2 teaspoon salt
1 cup cranberries (or dried fruit)
Instructions
Preheat oven to 250 F
In a large bowl, add and stir together oats, nuts, coconut, spices and coconut sugar.
In a small bowl, add and stir together maple syrup, coconut oil, vanilla and salt.
Combine and stir both mixtures together. Pour and spread evenly onto 2 baking sheets lined with parchment paper. Bake for 45 minutes, stirring every 15 minutes or until toasted (not burned!) and lighted browned (to your preference).
Remove from oven. Add dried cranberries (or dried fruit) and stir into granola.
Let mixture completely cool, then pour into and store in glass sealable food containers.
Enjoy plain or with yogurt and fruit.