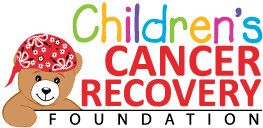 FRUIT PIZZA! A Fun, Kid-Friendly & Healthy Recipe
Eat pizza and be healthy too! Create a fun snack with naturally colorful fruit like watermelon, coconut, bananas, blueberries and mint. It's a great edible craft that the whole family will enjoy!
Recipe brought to you by the Children's Cancer Recovery Foundation
FRUIT PIZZA RECIPE
Ingredients:
Watermelon, whole
Coconut Flakes, unsweetened
Banana, sliced
Blueberries
Mint leaves
Note: Try to choose fresh, organic ingredients and wash fruit well before consuming.
Instructions:
Slice watermelon into 1 inch circle slices.
Lay one slice flat on a cutting board or plate.
Top with coconut flakes, banana slices, blueberries, torn mint leaves, and again with more coconut - or your favorite fresh toppings!
Cut, serve and enjoy immediately with family and friends.