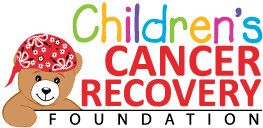 Girl Scout Troop Packs Gifts for Camp iHope Campers
Girl Scout Troop 184 Sends Gifts to 24 Children with Pediatric Cancer

Harrisburg, PA - June 24, 2015 - Girl Scout Troop 184 out of Severna Park, Md., recently visited the Children's Cancer Recovery Foundation (CCRF) headquarters in Harrisburg, Pa., to learn more about the Foundation's programs and to assist with a special service project. The nine girls in Troop 184 are currently working on a Silver Award project on behalf of CCRF.
During their visit, the group hand-selected and packed Bear-Able Gifts to send to 24 children with pediatric cancer attending Camp iHope in Anna, Tx. Camp iHope serves children 7-16 years of age with any type of cancer diagnosis treated at Medical City Children's Hospital. Camp iHope provides children with cancer an opportunity to take a break from cancer, and the gifts packaged by Troop 184 served as an extra special surprise.
In the fall while working toward their Silver Award, Troop 184 will host a Trail Ride of Hope and Toy Drive to raise awareness for childhood cancer and support the Foundation's Bear-Able Gift toy distribution program, which annually sends new gifts to more than 15,000 children receiving cancer treatment in hospitals and oncology centers across the nation.
About Children's Cancer Recovery Foundation (CCRF)
Headquartered in Harrisburg, PA with a division in The Woodlands, TX, the Children's Cancer Recovery Foundation supports children under 18 and their families facing the hardships of cancer. The foundation performs acts of care and kindness through the following programs: Bear-Able Gifts (largest distributor of gifts to children with cancer in the U.S.); Helping Hands Fund (provides emergency financial assistance to families); and Camp Scholarships (allows children in remission to reconnect with activities they love). With a national pediatric-hospital partner network of 215+ locations, the foundation directly helps more than 15,000 children affected by cancer and their families every year. Please visit www.ChildrensCancerRecovery.org.