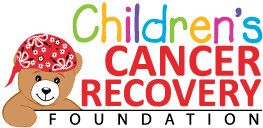 Best-Selling Author Donates Proceeds of New Book to CCRF

Best-selling author, Dan Cooley, donates all profits from new book Bizarre Bible Stories 2 to help children with cancer.
"Dear God, why did you give me cancer?" asked Kristina, daughter of a long-time friend of Pastor and author Dan Cooley.
Dan recalls, "In the summer of 2013, Kristina wrote me a note with that question. I tried to give an answer in Bizarre Bible Stories 2!, but fell short. One day I'll see her again, and she can show me her mansion and introduce me to Jesus who will answer the question with depth." Kristina went to heaven June 21, 2014. The new book is dedicated to her.
The dedication is just the start of honoring Kristina. Remembering Kristina, Dan shared, "I'd like to live with some of the grace Kristina showed throughout her life. When she was diagnosed the Helping Hands Fund, a program of Children's Cancer Recovery Foundation, helped her family through some incredibly difficult times. It seems logical then, that all of the profits of Bizarre Bible Stories 2! should go directly to Helping Hands. It really is fun to give this way. You don't notice the money you never had."
Bizarre Bible Stories 2 has received glowing reviews. Barnes & Noble reported, "Whether it's kids with their parents at night, youth groups or Sunday School classes, young people are going to beg for 'just one more story' when they get into this book."
Through special arrangements with the book's publisher, Heritage Builders Publishing, all author royalties will be given directly to the Helping Hands Fund. As Dan said, "So buy a book. Help a family with cancer." http://heritagebuilders.com/product/bizarre-bible-stories-2/.
About:
Author: Dan Cooley. Besides being an author, Dan is lead pastor of Cottonwood Church in Rancho Rio, NM. Dan shared, "As a missionary kid, I've always known who Jesus was, but it wasn't until college that I really began to look at how He fit into my life. Discovering the answer has been a mysterious, exhilarating, long (and sometimes difficult) journey, but I could not imagine a life without Christ." http://h2.danielcooley.com/index.php
Publisher: Heritage Builders Publishing was launched in 2009 by Dr. Sherman Smith and Dr. J. Otis Ledbetter. Their mission was to publish Christian books geared to help the family. Heritage Builders Family Nights Tool Chest was first introduced by Focus on the Family in the late 1990's. Heritage re-launched those titles and found them to be just as popular as ever. Today, Heritage publishes a wide variety of genres and distributes them globally. http://heritagebuilders.com/
Charity: Children's Cancer Recovery Foundation is celebrating its 25th Anniversary. The Foundation's mission is to help all families prevent and survive childhood cancer. In addition to the Helping Hands Fund, the charity's Bear-Able Gift program is North America's largest distributor of toys, games and crafts to children with cancer http://childrenscancerrecovery.org/