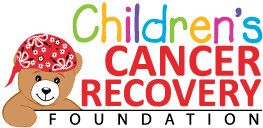 Ashley's Story
Child Name: Ashley
Age: 17
Diagnosis: Ewing's Sarcoma
State: FL
Program: Helping Hands Fund
Date Helped: September 2014

1. Cancer. When did this word enter your life?
It started with my husband first being diagnosed in December 2013 with AML (Acute Myeloid Leukemia). Our world turned upside down, my children and I were devastated, needless to say. He finished treatment in May. One month later, my daughter was diagnosed with Ewing Sarcoma; my world nearly came to an end on June 4, 2014.
2. How has cancer affected your family in a positive and/or negative way?
It has made our family much closer, re-arranging the true priorities in life, realizing our goals in life were so much more on the material end, now we live each day differently, each day has its own challenges, but you can always find something beautiful about that day and treasure it in your heart because life is precious. It's truly a gift from God. Cancer has made our family stronger. We have met amazing people at the hospital, through foundations, our church family has come together to help us get through this and we know that we are not alone.
3. What has been the biggest challenge or struggle during your child's treatment?
Our biggest challenge during my child's treatment, as a parent, is watching her go through the side effects and knowing I can't do anything to change that. It is difficult to see your child cry and hold back tears because you need to remain strong for them. To then find time later while they sleep, to have your own private breakdown. Another challenge is to see my other child, her brother(he's 13) deal with this on his own terms since I've had to spend so much time out of the house because of my husband's treatment and now Ashley's. He's been neglected for almost a year now and we try so hard to do family things together as much as possible when Ashley feels up to it.
4. How have you and your family stayed mentally and emotionally healthy?
By developing a very close relationship with God. We are Christians and our church family has helped us by being there for us in many ways. They show us so much love by helping with errands, bringing food to Ashley at the hospital and doing special photo shoots for her. We believe that our Lord is in control of everything and He holds our future especially that of my husband and Ashley.
5. What has brought the most joy or fun to your family's life during your child's cancer treatment?
The love we get from everyone at the hospital and everyone that comes to visit Ashley. Doctors, nurses, the social workers… everyone goes the extra mile to do something special for Ashley. A friend of our child life specialist did a special photo shoot for Ashley. It was an unbelievable experience, with a stylist and make-up artist. She felt like such a model. I truly have no words to say how grateful I am for all the love and the time these special people give us.
6. How was your family impacted when you were chosen to receive help from our programs?
Yes, yes, yes. Thank you for helping me pay one month worth of utility bill, this goes a long way. With my husband not back to work just yet, this means one less bill, one less thing to stress about. Thank you from myself and my family. I thank all those angels that made it possible for families like ours to make this difficult process a little easier, every little bit helps, it really does.